「EZ ROLLERS DRUM & BASS PRODUCER PACK」のレビュー
媒体名:

Sound On Sound誌(UK)

更新日:

05.09.01
Sound On Sound誌(UK)レビュー内容(英語)
4 STARS
"This library is split into three main elements: approximately 150 drum breaks, some 50 percussion loops,
and 350 instruments. Given the 'Drum & Bass Producer Pack' subtitle, the drum and percussion loops are
suitably speey - Original tempos are mostly in the 160-175bpm range - And nice and busy. The breaks
are split into a number of helpfully named folders. For example, the Classics folder features a small
number of 'bread and butter' drum breaks, while the names of the Rough Enough and Slightly More Polite
folders speak for themselves. My particular favourites were within the Heavy category ? Lots of squashy
kick drum and some suitably crunchy processing really did get my monitor cones moving! Throughout, the
processing is nicely done, with plenty of variety from clean, 'in your face' loops through to those with a
good dose of added ambience. While the quality was excellent, the only downside was that I was left
wanting more! The same applies to the smaller number of percussion loops. These mainly consist of hihat, shaker, ride, bongo, and a small number of fills, and they can be useful to add a layer of sizzle to one
of the breaks as required.
As might be expected in a library aimed at drum & bass producers, the instruments collection is pretty
much devoid of any conventional instruments. Instead what we get is a varied collection of weird and
wonderful bleeps, bloops, and buzzes ? With a smattering of drum hits, stabs, and heavily processed vocal
snaps thrown in for good measure. In the Refill, these are all available as NNXT patches and are organised
into a large number of categories. As well as the more usual basses, pads, and drum hits, they include FX,
Cosmic Pads, and Tek Sounds. There are plenty of choices within the bass sounds, from big and fat
through to thin and fizzy. The contents of the Vox FX and Stabs categories were also good, although it
would have been even better if there had been more of them!
Drum & bass is a pretty specialised musical genre and tracks are generally built upon a foundation of (
often very busy) drum loops and a fairly minimal arrangement of other sounds. This library contains all the
essential elements required to build complete instrumental tracks in this style. Some of the loops and
sounds here do follow a fairly well-trodden path, but there would be more than enough to appeal to
budding drum & bass producers. I've no criticisms of the quality of the material here but, at this UK price
point, I think the quantity of material has suffered from the provision of so many different formats. That
said, it's totally understandable from the perspective of the manufacturers - multiple formats cost more
to produc - and those who want maximum flexibility may well consider this a sensible compromise."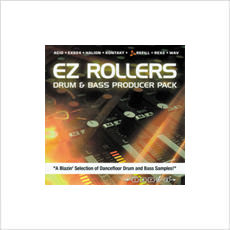 大御所E-Z Rollersが放つDrum&Bassライブラリーの決定版!!
税込価格 ¥5,390
ジャンル:

フォーマット:

WAV, ACID, REX2

リリース時期:

2010年1月

メーカー:

ZERO-G