「EZ ROLLERS DRUM & BASS PRODUCER PACK」のレビュー
媒体名:

International DJ誌(UK)

更新日:

05.07.01
International DJ誌(UK)レビュー内容(英語)
Rating: 5 out of 5
"They are one of the most successful drum & bas acts of all time, but does the EZ Rollers Drum & Bass Producer Pack match the quality of their recorded output? Read on and find out.
In the world of drum & bass the EZ Rollers are something of an institution, with countless singles and a cluster of classic albums under their belts for labels including Moving Shadow and their own Intercom Recordings. Now, contrary to the oft accurate perception of the drum & bass producer closely guarding their production secrets, Jay and Alex have always been open about their studio techniques and happily upload samples to their own website and those like Drum & Bass Arena to assist and encourage other producers.
With that in mind it's no big surprise to hear that they have produced a sample library, although what is surprising is that it's taken them this long to put one together. However, the wait has most certainly been worth it for the sheer quality and flexibility of the material on EZ Rollers Drum & Bass Producer Pack is high. The library is a single multi-format disc containing 200 REX2 files, ACIDized WAV files, a Reason Refill, plus 350 instruments for the EXS24, HALion, Kontakt and NN-XT samplers, so there's something here for producers on every platform.
The range of material is excellent too, naturally taking in a wealth of drums and basses, which producers of any level of experience will be stoked by, but on top of all this there is a stunning selection of synths, sounds and effects. These covering a broad base, taking in the jazz funk juice you might rightly expect from the Rollers, through to the more contemporary grime styles and experimental sci-fi and industrial sounds. Add a sprinkling of vocal effects and delay riffs and you have a sample library that will keep the drum & bass heads happy and a whole lot more besides.
A spanking drum & bass sample disc, flexible enough for use in other styles."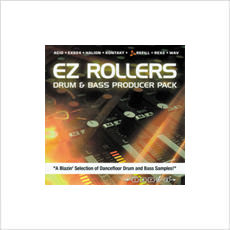 大御所E-Z Rollersが放つDrum&Bassライブラリーの決定版!!
税込価格 ¥5,379
ジャンル:

フォーマット:

WAV, ACID, REX2

リリース時期:

2010年1月

メーカー:

ZERO-G