「EZ ROLLERS DRUM & BASS PRODUCER PACK」のレビュー
媒体名:

Computer Music誌(UK)

更新日:

05.07.01
Computer Music誌(UK)レビュー内容(英語)
Verdict: 8 out of 10
"You've probably heard of UK drum 'n' bass outfit EZ Rollers - they were responsible for 'that track' from
Lock, Stock and Two Smoking Barrels. As their first foray into the world of sample CDs, this collection is
certainly not lacking in scope.
The pack features beats, percussion, basses, pads, delays, drum hits, FX, guitars, stabs and more. The
content isn't revolutionary - the sounds are very 'trademark' d'n'b - but if you're an aspiring producer in
the genre and looking for a credible, all-encompassing starter pack, you'll struggle to do better than this.
"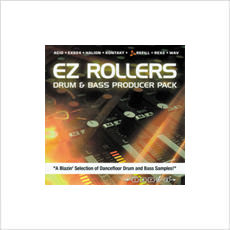 大御所E-Z Rollersが放つDrum&Bassライブラリーの決定版!!
税込価格 ¥5,379
ジャンル:

フォーマット:

WAV, ACID, REX2

リリース時期:

2010年1月

メーカー:

ZERO-G