「ORIGIN07 FUNKY HOUSE PRODUCER」のレビュー
媒体名:

Remix誌(USA)

更新日:

05.09.01
Remix誌(USA)レビュー内容(英語)
Those who produce deep four-on-the-floor house can never have too many fresh loop libraries at their disposal. House is a genre of dance music with perhaps more regional flavors than any other, and Funky House Producer does it's damnedest to bring them right to your doorstep.
This single CD comes packed with more than 1,500 samples and covers may bases, the majority given to one-bar percussion breaks and drum loops but also touching on instrument phrases, effects, multi-sampled pianos, chords and pads. Arranged by tempo (115,120, 125 and 130 bpm) or sound, as appropriate, samples are provided as WAV, REX2 and NN-XT patches, including seven drum kits. Funk is at the forefront throughout and nowhere more so than in the 340 absolutely superb drum loops. Nicely balanced between real and machine, the distinctly regional-sounding beats are highly original and often supplied with no-kick and breakdown variants. From Miami, New York and London to Paris, Berlin and Ibiza, the tribal, Latin, hard and tech house styles are well represented with nary a hint of "glam."
Interesting rhythms, syncopations, filtering and effecting of individual percussion elements make each loop stand out, including tweaky doses of tasty compressor and effects-sidechain artifacts.
If this absolute gem of a disc doesn't fix up your mix or spur you to write a new track, you're in the wrong business.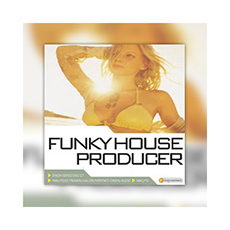 DEEP~UPPER HOUSE対応、本場のノリを完全凝縮!!
税込価格 ¥4,334
216pt
ジャンル:

フォーマット:

WAV, REX2, HALION, EXS24, NN-XT, KONTAKT (Preview)

リリース時期:

2009年12月

メーカー:

LOOPMASTERS