「ORIGIN07 FUNKY HOUSE PRODUCER」のレビュー
媒体名:

Keyboard誌(USA)

更新日:

05.09.01
Keyboard誌(USA)レビュー内容(英語)
When it comes to ubergroovy funk- and disco-style loops capable of shaking both booties and rafters, the pickins among today's pantheon of sample loop libraries are a bit slim. So when Funky House Producer crossed my desk, I raised an eyebrow and hoped for the best, since my copy of eLab's NuDirections practically has a hole in it after years of use.
Wow. This collection really caught me off guard. For starters, the drum loop selection is wonderful, with everything from super-shuffly DJ Sneak-style excursions to smooth San Francisco vibes a la classic Naked Music and the latest offerings from Om Records. The Acidized WAV versions are grouped by bpm into four folders, each one containing tons of loops with several variations of each for quickly arranging buildups and breakdowns with minimal fuss. All of these loops come in REX2 flavors also, so you can drop them into pretty much any sequencer or DAW and get rolling. And if you just want to roll your own loops with these sounds, no problem, as individual hits are also included in a separate drum "toolz" folder. Additionally, an array of useful bass guitar and synth loops is included and these compliment the vibe of the drum material quite nicely.
The guitar loops and single hits - 42 WAV and 16 REX2 - groove along with equal aplomb. If you're into filters and French house, you'll be in heaven. Frankly, I prefer to add my own processing to guitars, but there were enough tasty licks to provide ample inspiration for even finicky producers. The 60 or so music loops and phrases are also heavily filtered and processed, but are excellent examples of modern house production with an emphasis on jazzy Rhodes flavored with seventh and ninth chords, classic house piano comping, and a smattering of electronic yet organic riffs.
Reason-based house producers will likely dig the selection of included NN-XT basses and electric pianos for creating their own riffs. Overall, they worked well for their intended purpose, but electromechanical purists may be disappointed by the simplicity of the piano patches. Many include only two sample keymaps per octave and no velocity switching. Even so, there's some useful stuff in here, especially when you add a touch of filtering and effects to match the other loops in this collection.
For a street price of about 50 bucks, Funky House Producer is a truly useful grab bag for DJs, remixers, and musicians who want to nail that deep and funky sound without breaking the bank.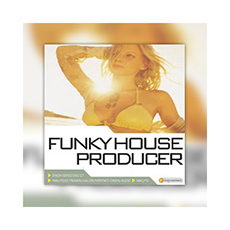 DEEP~UPPER HOUSE対応、本場のノリを完全凝縮!!
税込価格 ¥4,532
226pt
ジャンル:

フォーマット:

WAV, REX2, HALION, EXS24, NN-XT, KONTAKT (Preview)

リリース時期:

2009年12月

メーカー:

LOOPMASTERS