「THE BEST OF BREAKBEAT」のレビュー
媒体名:

Remix誌(USA)

更新日:

00.07.01
Remix誌(USA)レビュー内容(日本語)
評価: 5点中4.5点
「70年代のレコードを漁ってパーフェクトなビートを探すのは時間がかかって大変だし、それに著作権などの問題も結構面倒だ。しかし、この『Breakbeat2』がそんな問題を全て解決してくれる!ここに収録されている大量の斬新なループ・サウンドには、まるでそこでドラムを演奏しているかのようなライヴ感と、古いレコードの味のあるローファイ感がしっかりと入っている。ハイクオリティーな135種類のループ、テンポも74~117bpmに分かれていて使いやすい。サウンドのバリエーションも驚くほど豊富で、まるでパフォーマンスごとに違う種類のドラムキットを使ったのではないかと思える程だ。ファンキー・ブレイク、ヒップホップ、ビッグビート、ニュースクール、ドラムンベース、ジャングルなど、ブレイクビーツを使うジャンルにならどれにでも合う。いいかげんなサウンドなど一切ない、使えるサウンドがたっぷりと収録された万能CD!」
Remix誌(USA)レビュー内容(英語)
Overall Rating (out of 5): 4.5
There are a few things in life you can never have too much of: love, money, and breakbeat samples. Breakbeat friends are known to spend weeks digging through crates looking for the perfect beat. Thing is, not all of us are blessed with a collection of 5,000 '70's funk records and the hundreds of free hours it takes to go through them. And then there's the hassle of getting clearance once you've found a beat that works.
Fortunately, Big Fish Audio has come to the rescue with its Breakbeat series sample collection. Breakbeat 2 is loaded with beats as fresh as your grandma's apple pie and greasy as your grandpa's toupee. All the loops sound as if a live drummer recorded them, and they have that nasty, gritty, vintage-vinyl quality.
The disc contains 135 loops ranging in tempo from 74 to 117 bpm. Most are followed by samples of the individual hits constituting the loops, so you can modify or program new beats to your heart's content. Loops span a minimum of two bars, with plenty of variations on the basic beat.
Perhaps the most amazing feature of this collection is the variety of sounds - it's as if entirely different kits (or drum samples, as the case may be) were used for each performance. Most of the loops are deliciously dry, with just a touch of natural-sounding room reverb. Add your own reverb or effects processing, and you'll soon have beats as quirky and unique as your own bad self.
The loops are arranged in no particular order-the bpm can vary significantly from track to track, as can the overall vibe. But even the staunchest organization freak will have to admit it's a lot more fun to search for beats on this CD than to flip through a dusty stack of vinyl.
If you're into any style of music that uses breakbeats, whether its funky breaks, hip hop, big beat, or new skool, you'll find plenty of useful goods here. This disc is loaded with 72 minutes of high-quality material, with absolutely no filler. By chopping up the beats with ReCycle and pumping up the bpm, even drum 'n' bass and jungle freaks will find plenty of useful loops.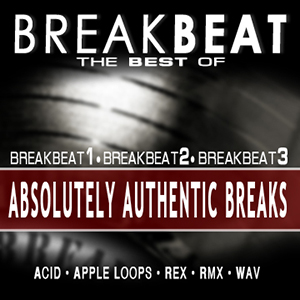 ブレイクビーツ三部作を一つにまとめたお得パック
税込価格 ¥4,367
218pt
ジャンル:

フォーマット:

WAV, ACID, REX2, Stylus RMX, AppleLoops

リリース時期:

2009年12月

メーカー:

BIG FISH AUDIO