「THE OPERATING TABLE」のレビュー
媒体名:

Computer Music誌(UK)

更新日:

04.10.01
Computer Music誌(UK)レビュー内容(英語)
Rated 9 out of 10
"Given the abundance of drum ROMplers currently flooding the marketplace, any new release has to do something pretty special to stand out from the crowd. Luckily, this latest offering from Zero-G does just that, with stacks of excellent quality, original drum breaks that are a cut above the usual stuff doing the rounds.
They were recorded by Emre Ramazanoglu, a London-based producer who has worked with William Orbit and The Prodigy. He's beavered away to create this library of chunky loops, which were all recorded live by drummers.
Groove and human feel are present in abundance throughout the selection of warm, fat sounds, which cover a wide range of genres - from James Brown-esque funk loops to the kind of fast, aggressive madness that even Aphex Twin would probably leave well alone. However, the real icing on the cake is the fact that The Operating Table is powered by Native Instruments' impressive Intakt engine, perfectly suited to drum breaks and offering plenty of creative potential for mangling your loops and hits beyond all recognition.
The Operating Table's funtionality allows you to totally adjust the sonic content of each loop or individual hit to a great extent. For example, the EQ and filter are good for adding some crunch to an otherwise ordinary snare sound. Also worth a mention are the useful timestretching options that enable you to adjust the tempo of a loop to fit, while still keeping the natural rhythmic quality of the sound. All in all, this is a highly impressive package that should appeal to anyone who's looking for some quality new breaks to add to their sonic arsenal."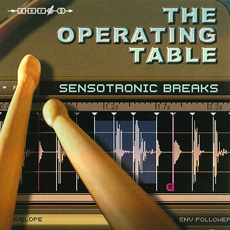 生ドラムに巧妙なエフェクトを施したブレイクビート集
税込価格 ¥8,019
ジャンル:

フォーマット:

WAV, ACID

リリース時期:

2010年1月

メーカー:

ZERO-G