「BEATS WORKING」のレビュー
媒体名:

Electronic Musician誌(USA)

更新日:

03.07.01
Electronic Musician誌(USA)レビュー内容(英語)
Overall EM Rating (1 through 5): 3.5
Sometimes it's hard not to judge a book by its cover, especially when its cover looks really, really good. Take Zero-G's Beats Working drum loop library, for example. It's packaged in an ultraslick custom metal case with the Zero-G logo embossed onto a separate shiny plate. The $495 collection includes 11 CDs: 9 with 24-bit, 5.1 surround-format data for Digidesign Pro Tools, and 2 with the same material mixed down to 16-bit stereo in audio and Acidized WAV formats. It's very cool.
Moreover, this library boasts a noteworthy pedigree. Producer-engineer Haydn Bendall - whose credits include Kate Bush, XTC, and Paul McCartney - recorded the drums in Abbey Road's gorgeous-sounding Studio 2. Behind the kit was drummer Ralph Salmins, whose diverse credits run from Tom Jones to Madonna to Bjork.
With its cool packaging, impressive credentials, and multiple gigabytes of data, you naturally expect great things from this library. And what do you get?
Grooves Galore
To start with, you get 38 basic grooves that are organized into five main sections: Classic Modern Grooves, Odd Time Grooves, Big Band Grooves, Modern Pop Kit, and Filmic Grooves. Each groove has from 6 to 39 variations. The CD booklet - one of the best I've seen for a loop library - includes a brief but helpful description for each groove.
Among my favorites are the swaying groove of African Style 9/8 118 bpm; the smooth and lovely MK Brush 70 bpm; and the great-feeling, totally solid groove of Medium Pop Tight 94 bpm. The simple, atmospheric Filmic Multirods 83 and 90 bpm - featuring loose-sounding doweled sticks on toms - seem custom-made for suspense scenes. The Beats Working library also includes a variety of jazz grooves, including several big-band "Crooner" grooves and Jazz Brushes 118 bpm, with its easy-flowing feel and beautiful timbre.
Speaking of timbre, all the multitrack material sounds absolutely fantastic. It includes the six standard channels of 5.1 surround - left, right, center, left and right surround, and LFE (Low Frequency Effect) - along with separate stereo tracks of both near and far ambience.
Ready Mix
The premixed 5.1 tracks make it a piece of cake to drop drum loops into a surround project, and the selection of different natural acoustic ambiences is extremely handy for good old-fashioned stereo production. I particularly enjoyed pumping the far ambience tracks through some extreme compression and then mixing them back in with the dry stereo mix.
The stereo mixes in the audio/WAV version are a reasonable approximation of the multitrack recordings, but I came across a few troublesome flaws, including some bad splices (resulting in flam effects) and a couple of strange zipper artifacts on fade-outs. Some of the jazz mixes also seem a bit too heavy on the low end. In all cases, the problems are not present in the multitrack data.
Play Time
Some of the performances are more of an issue for me. Salmins seems completely at home with the jazz material, approaching the rhythms with ease, grace, and flair. His jazz sensibility, however, doesn't always translate well into pop and rock grooves. Several otherwise excellent tracks - including Up Pop 1 and 2, Stompy Pop, and Modern Kit 110 - are marred by inappropriately busy ghost notes on the snare. I found myself wishing that simpler, more straightforward versions were available.
Make no mistake, though: these are great-sounding drums played in a classic room and recorded by a skilled engineer. I only wish that more care had been taken in creating the stereo version and that drummer Salmins had tempered the jazz influences on his pop and rock beats. If the packaging were all that counted, Beats Working would clearly be the undisputed champion of rhythm libraries. As it is, this massive 11-disc loop collection is generally quite good, although it falls a bit short in several places.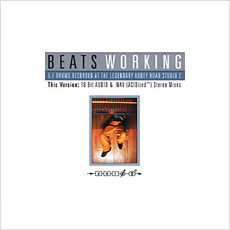 ABBEY ROADスタジオ録音の価値あるドラム音源!!!
税込価格 ¥10,296
514pt
ジャンル:

フォーマット:

WAV, ACID

リリース時期:

2010年1月

メーカー:

ZERO-G