「THE BEST OF BREAKBEAT」のレビュー
Future Music誌(UK)レビュー内容(英語)
10 out of 10
The world appears to be going breakbeat crazy, (unless itOs all just in my head, of course), so how timely that the third installment in the funky-ass Breakbeat series now moves among us... And what a rock solid collection of breaks it is too.
The collection's spread over two sections. The first features breaks of mostly eight to 16 bars with variations, followed by the individual hits, essential for extending the life of any sample CD. The second section features a whole bunch of two-bar loops with no hits.
Although the blurb says the CD leans mostly towards the hip hop and R&B genres, why the hell should those guys have all the fun? It would be a big shame if Breakbeat 3 didnOt make its way into a wider market, such as producers of lo-fi, trip-hop, breakbeat, big beat and nu skool breaks, given the wealth of fantastic loops included here. Crusty, lo-fi loops that ooze dirt with laidback rhythms, clean and hard jump-up breaks, tuff and nasty yet fat and funky loops... The list goes on and on.
Although the tempo range falls between a fairly conservative 70-126bpm, the individual hits on here make it easy to mix and match sounds to create loops however you like, and there really are some great sounds to be had here. This one comes highly recommended.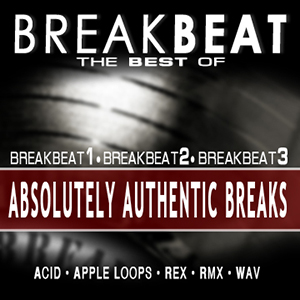 ブレイクビーツ三部作を一つにまとめたお得パック
税込価格 ¥4,312
215pt
ジャンル:

フォーマット:

WAV, ACID, REX2, Stylus RMX, AppleLoops

リリース時期:

2009年12月

メーカー:

BIG FISH AUDIO