「VINDA LOOPS」のレビュー
媒体名:

The Mix誌(UK)

更新日:

95.09.01
The Mix誌(UK)レビュー内容(英語)
Zero-G serve up sumptuous eastern smorgasbord of bhangra rhythms. The jokily-named Vindaloops is an excursion into the dhol, dholak, ghara, tabla chimpta, tumbi, taliaan.
Just in case you didn't know, the dhol is basically a large drum played with sticks, which was originally used at happy events such as weddings in tribal and rural areas. The dholak drum, made from hollowed wood is played with the fingers. The two drum heads are made of skin stretched over hoops.
The ghara is a porous earthenware pot. Played with the fingers, gharas usually have metal rings on them. A tabla consists of two drums, the right-hand of which is the tabla and the left is the banya or dugga. Both drum heads are made of skin, but the body of the dugga is metal, while that of the tabla is wood. Chimpta are long metal tongues with tambourine like discs along both arms, and a ring attached to the closed end plays complementary rhythms. A tumbi or cktara is a simple one stringed instrument, while taliaan are finger cymbals.
The CD kicks off with some astonishingly groovy percussion loops. I never realised these sounds could be so powerful. The whole sound spectrum is covered by these drums; from the highest frequency cymbal to the lowest sub-bass timbre.
Some of my personal favourites are the tracks near the beginning, but it would be hard to pick a winner. They're all incredibly well played, well-recorded and highly usable samples.
It doesn't stop there. As well as percussion loop samples, we are offered single shot hits, mandolins, pipes, and sitar, not to mention vocal samples and programmed Bhangra loops. Most are clean and clinically recorded, but some such as the Vintage Masala loops are old, containing oodles of noise. Not necessarily an impediment to creativity.
The 'Raaga to Riches' female vocals are both beautiful and haunting, although the kiddie vox is somewhat naff, with a child exclaiming "Bhangra's gonna get ya!" This puts me in mind of the cringe-worthy "Hear the drum and get wicked!"
However this is the only track that mars the CD in the slightest. Anyone in the business of making house, jungle, bhangra or indeed any other genre of music will not be disappointed.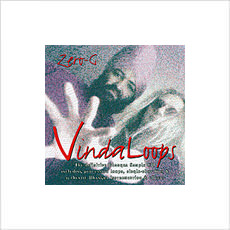 バングラビートをはじめスパイシーなインディ・リズムの宝庫
税込価格 ¥5,137
256pt
ジャンル:

フォーマット:

WAV, ACID

リリース時期:

2010年1月

メーカー:

ZERO-G