「TOTAL FUNK」のレビュー
媒体名:

Keyboard誌(USA)

更新日:

00.10.01
Keyboard誌(USA)レビュー内容(英語)
BANG FOR THE BUCK : 9
"You might be tempted to think these samples must be throwaways. But you'd be wrong. While the material on these discs is not brand-new, Total Funk offers great value for money. It will give you a huge selection of funk beats, bass lines, guitar and keyboard riffs, vocals, and on and on.
Old-school R&B and reggae/ragga/dub devotees will find much to like on disc 1, as will anyone else looking for a well-organized storehouse of great loops and riffs. Zero-G has thoughtfully grouped the 400 beats on disc 1 by tempo, ranging from 85 to 125 bpm. "It's excellent that you get four bars plus an extra downbeat in each pattern" noted second listener Mark Vail "There are variations in each bar, too." Disc 2 opens with 200 key-identified guitar riffs ranging from 80 to 125 bpm. You'll find Chic funk, James Brown stank and Memphis soul sounds. A few of the samples might be too crispy for some, but the vast majority are well-recorded, with lots of character.
Bass lines are organized the same way as drum loops and guitar riffs, and feature everything from muddy, Larry Graham-esque proto-slapping to tubby, Memphis-grooves. Tempos range from 80 to 120 bpm, in styles that recall EWF, James Brown's horns, and the Tower Of Power sound. "I love the compressed horn bleats. They have so much character," enthused Mark. Each riff is presented in at least two keys, with most offered in four. Very nice.
Thick, buttery Rhodes samples include plain-tone block chords (with chord names), chords with chorus and wah applied, and a track of riffs at 85 bpm, keys named. Tracks of flute improv phrases give you what you need to recreate the vibe of vintage TV's Baretta. Mark & I were both surprised by the tracks of weak synth effects.
An uncanny James Brown impersonator contributes a track, right behind which come two tracks of vocal noises, sung phrases and spoken bits. Finishing out the second audio CD are instrument multisamples you can use to play your own beats and riffs. The third CD offers the entire contents of discs 1 and 2 in WAV format.
I someone told me they were going to send me to a desert island to make a greazy funk record, I'd first make sure the island had electric power and set about packing up my sampler, sequencer, Total Funk and a soul food cookbook; Man cannot live on funk alone."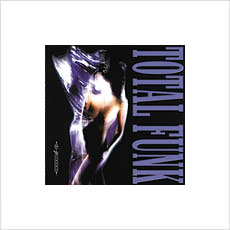 ZERO-G音源よりベストチョイスしたファンク音源、最終兵器!!
税込価格 ¥7,843
392pt
ジャンル:

フォーマット:

WAV, ACID, REX2

リリース時期:

2010年1月

メーカー:

ZERO-G