「SEISMIC FREQUENCIES」のレビュー
Keyboard誌(USA)レビュー内容(英語)
SOUND QUALITY: 9
VARIETY: 8
BANG FOR THE BUCK: 9
Heading into the new year (I'm writing this in early January) we were inundated by references to 2001: A Space Odyssey. With luck, the fuss will fizzle out before too long. In the meantime, you may find yourself saddled with, say, a client who needs a spacey drone to underscore a 2001-themed hot dog commercial.
Reach for Seismic Frequencies. You'll leave 'em smiling.
Seriously, this sample collection would also be terrific for a dramatic TV score, or for the intro to almost any synth- or sample-oriented track. "I can't argue," second listener Ken Hughes concurred, "These sounds would be extremely useful if I were called on to provide some spacey, spooky, or fantastic effects." I tried importing a few of the WAV files into Acid, and found that they gave my production a very professional sheen. The sounds have depth, yet at the same time they're focused, leaving plenty of room to add other tracks.
The lion's share of the samples? Though by no means all of them ? Are non-tonal, reverberant, and chorused or flanged. Though the title might lead you to expect otherwise, the sounds are not heavy on the sub-bass. They average from ten to 20 seconds in length, but some are longer. In addition to rich swirling effects, you'll get a small but useful collection of processed drum loops, most of which use noise "percussion" rather than traditional kits. Other sounds, such as "Metal Machine" and "Dream Machine," pulse rhythmically without being in 4/4. Sad to say, many of the rhythmic samples are not truncated properly, so they have to be edited in order to sync with the beat in Acid.
The 16 short "Game FX" samples could easily be used for quick moves by laser weapons and other types of sci-fi machinery. (Zero-G's very clear and thorough licensing agreement states, however, that you can't use them for programming games.) More interesting to me were the five rather ominous, frightening slow-attack washes called "Looming." "Wouldn't want to listen to these in a darkened room," Ken commented. The nine "Stingers" are just as hair-raising, but they attack suddenly and die away in two or three seconds.
Normally, I prefer not to give a CD a rating for Variety, as it could mean anything, but I have to admit that while the material on Seismic Frequencies is uniformly spacey, every track has something new to offer. Producer Coen Lagerweij has some good effects processors in his toy chest, and a healthy dose of imagination too. While there's nothing truly unique in this collection, it's all well recorded and useful. And the fact that a WAV CD with identical sounds is included along with the audio CD will save you hours. Just be careful how you insert it in the computer. I'm sure it's not a manufacturing defect, but suddenly my CD-ROM tray is jammed. Computer, open the ROM tray door! (I'm afraid I can't do that, Dave. . . .)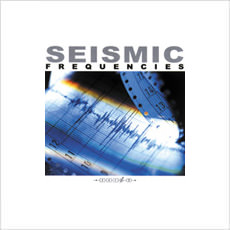 大胆な音響実験から生み出された超強力パワー効果音集
税込価格 ¥8,833
441pt
ジャンル:

フォーマット:

WAV

リリース時期:

2010年1月

メーカー:

ZERO-G