「FLAMENCO SOUNDS」のレビュー
媒体名:

Sound On Sound誌(UK)

更新日:

96.07.01
Sound On Sound誌(UK)レビュー内容(英語)
The title says it all, really. Time&Space have come up with a collection of samples that give you all the building blocks you need to add either a hint of Flamenco to an existing track, or construct your own Spanish-style dance floor smash.
The main instrument in Flamenco music is, of course, the guitar, and the first 40 of the 99 tracks are given over entirely to the sounds of the nylon acoustic. Strums(complete with wonderful fretboard taps) are presented in a number of tempos and keys. There are also arpeggios, strums, runs, and chord hits, all of which ooze authenticity and feeling, and the intelligent mapping of key signatures and bpms mean that they lend themselves to sampling more easily than you might expect.
The next section takes male Cantaor and female Cantaora vocalists and fills 16 tracks with abou;80 sung Spanish phrases. These range from simple phrases like 'Ay Ay Ay' to complex and unusual long melodic phrases that sample like a dream. The quality of the recording is excellent throughou, and gives you lots of room to add your own ambience or other effects, should you want to.
After the solo vocals, there's a small section of group shouts, speech and singing. This is not nearly as inspiring as the solo stuff (the group sound as though they have had a little too much sangria whilst waiting to record), but they're good fun and useful all the same. The 'Cajon' drumming is, again, utterly traditional and authentic, but alittle harder to pin down in any specific category of usefulness - unlike the foot tapping, stamping and castanets which makes up the last three sections of this CD. These worked brilliantly against a number of rhythm tracks I tried, and all are listed with appropriate bpms.
Time&Space can congratulate themselves on a job well done. This CD brings the feel and spirit of true Flamenco music into the realm of sampling. Many would argue that this type of music doesn't lend itself to this type of approach, but as the demo on track1 shows, if you have an open mind to fusing these samples with other, more modern music forms, there are a number of exciting possibilities just waiting to be discovered. Flamenco Sounds is an unusual addition to the CD rack, but a well-constructed and inspiring addition all the same.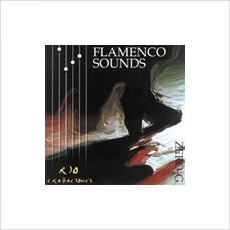 情熱的なフラメンコのフレーバーを専門にコレクトしたソース!!
税込価格 ¥6,358
317pt
ジャンル:

フォーマット:

WAV, ACID

リリース時期:

2010年1月

メーカー:

ZERO-G