「AMBIENT METAL CONSTRUCTIONS BUNDLE (VOLS 1-3)」
「AMBIENT METAL CONSTRUCTIONS 1」のレビュー
媒体名:

Music Tech誌(UK)

更新日:

09.08.01
Music Tech誌(UK)レビュー内容(英語)
"Have you ever wondered what Brian Eno writing metal would sound like? Well, this new pack from Producer Loops may answer the question, as it combines the sounds of ultra-low tuned modern metal with sweeping cinematic ambience.
This pack feature five construction kits ranging from 85 to 130BPM in 24-bit/44.1 kKz quality. Available as a 450MB download, you can opt either for the ACIDized WAV or Apple Loops formats.
This pack combines more traditional metal guitar/bass tones with some nice warped production techniques. The drum parts are well programmed - if a little stiff - and feature some intricate polyrhythms with a traditional thuddy kick and lightly reverb-drenched simple piano riffs are also thick and evocative.
The pack's main selling points, however, are the guitar and bass riffs. There are plenty of well-played hooks with suitable chunky distorted tones, alongside some shimmering ruffs with good use of reversed, blended and time-streteched sounds.
The quality on offer is very high, but there's just not enough content to justify the asking price. With maybe a few more kits or possible some playable synth paid sounds, this would become much more usable. That said, the chugging bass and killer guitar hooks may find some fans in the post-Soulwax dance music arean, while the ethereal pads and effected guitar parts could come in useful for soundtrack or game music."
(SCORE 7/10)
壮大なアンビエントと重厚なメタルギターの幸福な出会い総集編
税込価格 ¥10,230
ジャンル:

フォーマット:

WAV, ACID, REX2, Refill, MIDI, AppleLoops

リリース時期:

2010年8月

メーカー:

PRODUCER LOOPS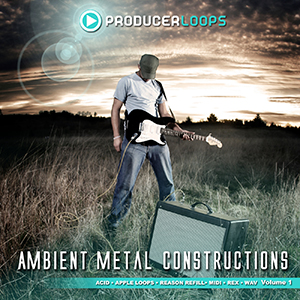 壮大なアンビエントと重厚なメタルギターの幸福な出会い
税込価格 ¥4,378
ジャンル:

フォーマット:

WAV, ACID, REX2, Refill, AppleLoops

リリース時期:

2010年8月

メーカー:

PRODUCER LOOPS