「ORIGIN05 PERCUSSIONISM」のレビュー
媒体名:

Virtual Instruments誌(USA)

更新日:

06.03.01
Virtual Instruments誌(USA)レビュー内容(英語)
Percussionism, the oldest of the libraries reviewed here, is (surprise) a library of percussion sounds and loops produced by Harvey Summers. The loops are organized into 23 folders based on tempos ranging from 60 to 160 bpm. Most folders contain a fully-mixed percussion bed plus two to five remixes, as well as breakdowns of the individual instrument tracks (such as bass, snare, different conga licks, and shaker). A few folders contain simpler arrangements such as just udus, or bougaraboo plus bells.
Typical length is 2 or 4 bars. This is augmented by over 350 1-bar shaker, cabassa, jingle stick, rainstick, and tambourine loops organized in 80, 100, 120, 140, and 160 bpm folders. There's also a good number of single-shot sounds, including over 70 "atmospheric percussion" samples of gongs, rainsticks, spring and talking drums, water bowls, and wind chimes, plus hundreds of single hits of a wide variety of percussion instruments with corresponding Reason patches.
The style of the percussion beds leans towards heavy African (which I like), although there are certainly Middle Eastern through Western styles and influences as well. (If your tastes lean more South American than South African, check out the Loopmasters AfroLatin Producer library.) These parts are not overplayed, making it easier to mix them with other loops. The recording quality is good, with a very immediate feel that doesn't lose the room's vibe. Overall, an excellent toolkit to add to your library.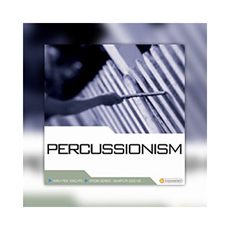 世界の様々な打楽器グルーヴ&単発"約2500音"の大コレクション!
税込価格 ¥4,631
231pt
ジャンル:

フォーマット:

WAV, REX2, HALION, EXS24, NN-XT, KONTAKT (Preview)

リリース時期:

2009年12月

メーカー:

LOOPMASTERS