『FINAL FANTASY VII REMAKE』SONICWIRE SPECIAL INTERVIEW
Mitsuto Suzuki (SQUARE ENIX)
Presented by SONICWIRE
"FINAL FANTASY VII" has been the legendary RPG since it was released in 1997. It's now been entirely remade and was released in Spring 2020 as "FINAL FANTASY VII REMAKE". While the game offers a new experience for users with finely detailed graphics and gameplay, its music has also evolved by leaps and bounds.
Original Soundtrack Promotional Video (this video was published when SquareEnix started accepting reservasions)
Just by listening to the beginning of the soundtrack, it draws the player into the world of the game, and it's so memorable in an instant. How were these rich and intricately crafted musical pieces put together? We talked to Mitsuhito Suzuki, who was in charge of the music.
Is there anything in particular that you paid attention to when you composed music for this game?
Mitsuto Suzuki: First of all, we assumed that people of all ages would play this game, so we tried to create music that would be nostalgic and fresh for players who had played the original version, but that those who are new to the game will find it innovative. We built up our sound team with varied staff from inside and outside of Square Enix. As a result, we were able to build a new worldview that encompasses a wide range of arrangements of various genres.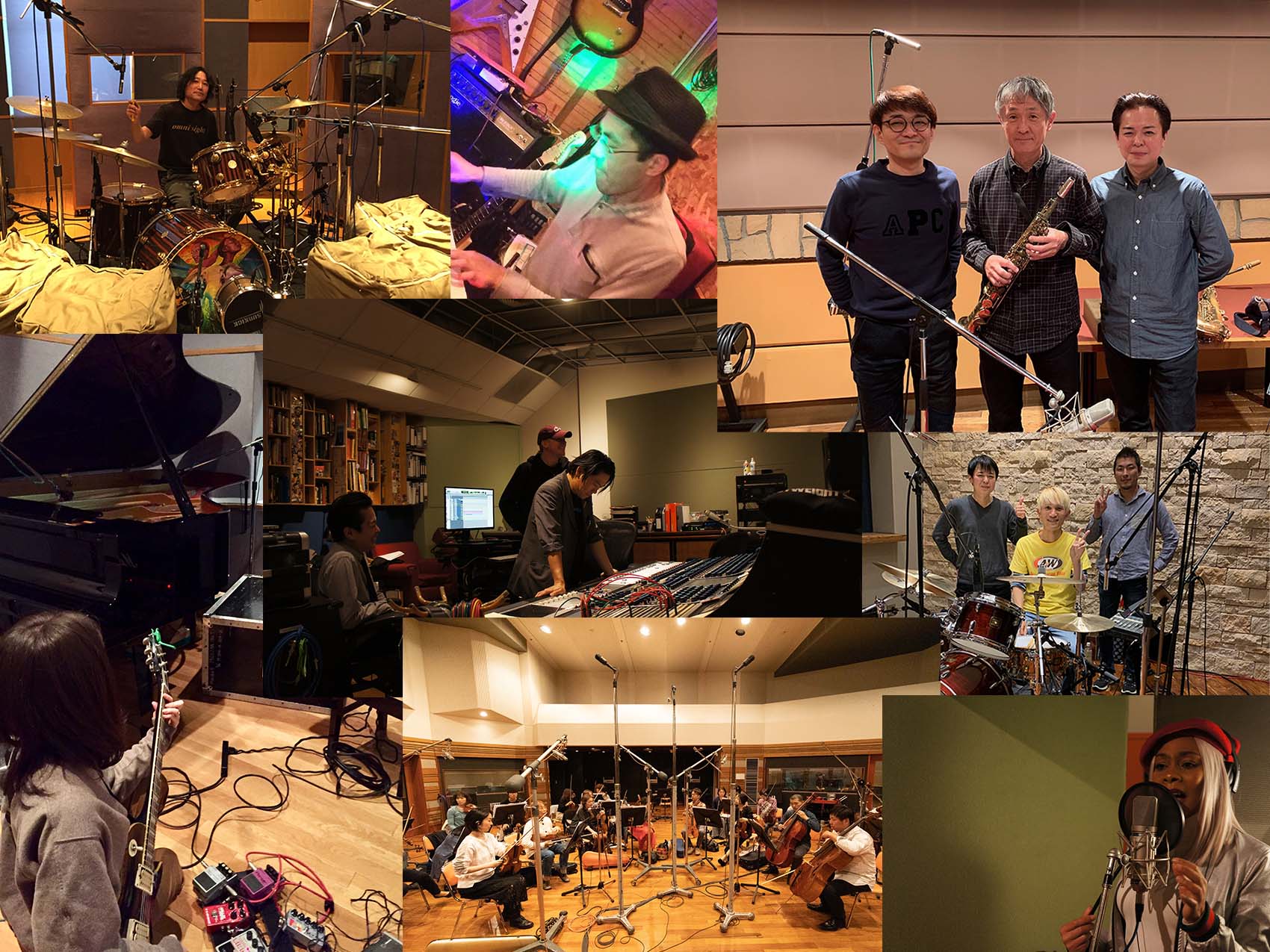 Where do you get your inspiration for songwriting?
It's important to decide in which scenes the music will be used, so for example, if it's a cut-scene, I look at the footage to check the scale and get a sense of the overall tempo. Once the tempo is set, I play the piano or strings on the vertical and horizontal axes to the rhythm that will serve as a guide to create the musical framework. If it's a song, it's like rhythm, guide chords and melody at this point.
The inspiration for the song varies, but if you consider the premise of "5W1H" and "joy, anger, sorrow and pleasure" and other emotional expressions, the tune comes into view naturally. This time, I'm responsible for both the new song and the arrangement, but I didn't put the melody of the original song on it until the end, and I felt as if I was creating entirely new music. This is a case by case basis though.
How do you imagine and put together the tracks that cross musical genres?
It's true that there are many combinations of genres. A lot of times, it depends on the movements and situations of game characters such as Cloud and other unique characters. If it's a battle scene, basically a speedy tune; if it's a cut-scene, it will have fading and softer volume. It might be easier to summarize it by saying that the story progression is aided by the music, such as changing to a tribal arrangement based on the location.
What do you pay attention when creating space and atmosphere for music?
It doesn't necessarily match the location in the game, but for example, there is a mini-game in which you play a dance battle in a hall called "Honeybee Inn". In this mini-game, you tap along with the dance moves, but the music used in the game, I mixed it to be dry. Normally, if you want to make it sound real, you have to take the hall sound into account in the mix. But it's dance music. Moreover, when it comes to tapping, the sense of attack and timing is crucial, so I made it dry in order to avoid blurring sound image with reverb. In the case of a stand-alone song, it's not so difficult to control depth, but sometimes it's deliberately separated to suit the game, which is a mix unique to games.
Dance Rhythm Game At Honey Bee Inn (Mini Game)
In some cases, the music changes interactively depending on the area or scene. What kind of "rules" do you follow in these cases?
There are two patterns this time. One is a pattern in which you prepare multiple pieces of music with the same length and tempo from beginning to end and adjust them by cross-fading in order to match the situation. The other is a pattern where a flag is raised under certain conditions in the game, and the playback points of the music change. The latter one in particular allows you to set up playback points and loop points as you wish, so it's possible to set the looping points to a certain extent. You have to decide in advance whether you can do it or not and create the music. As a result, the number of files is much larger than that of normal music, so we had to be careful in managing them.
We've heard that you used software instruments and plug-ins for this project. What did you like about the software instruments and tools you used, and how did you use them?
It's a must-have instrument. The range, soundscape and smoothness of the Strings patch in particular is a beauty that only Spitfire can offer. There is no other substitute. I often start composing with Spiccato as a starting point. This is one of the sound sources that I use for the strings in my music productions.
UJAM "VIRTUAL GUITARIST Bundle"
In fact, I've been using VIRTUAL GUITARIST since it was VIRTUAL GUITARIST 1, and there was a time when I got perplexed because I couldn't use it on Cubase for a while. I was very happy to hear about the revival of the product from UJAM, the original developer.
In addition to AMBER and SILK, I installed the Bundle edition before the development of FINAL FANTASY VII REMAKE began.
VIRTUAL GUITARIST is notable for its ease of use.
All you have to do is play chords with your right hand and specify the phrase style with your left hand and you can quickly add a guitar part to the song. I often use this plugin as a premise to replace the guitar part with a live performance, but I end up using it as it is. In "Loyal Dog Stamp," I used both the live guitar and the AMBER, so it might be interesting to compare them.
AVENGER is one of the most popular products in the EDM world, with a wide variety of presets and its edit functions. I think this is the secret of its popularity. Of course, the sound itself has a punchy, heavy-boned feel to it, and it's one of the most popular sounds in the world. This time, I used it for the kicks in "Honeybee Inn" (DR EDM Longkick in the Drums category). Because the tone has a wide range of settings, it is often used as a bass tone in unison with the kick. The world view is created with one shot, so this is a sound source with a high rate of "first shot" as a foundation.
Like AVENGER, SERUM is often used in electric music in general. The electronic producer Deadmau5 is secretly involved in the development of this one. Serum is good at sharp and crisp tones with the wave table method, but there are not many soft synths that allow you to set multiple envelope points as easily as an LFO. I often launch Serum when I'm in trouble, such as when I want to create an SE-like tone.
As you can see from the name GOTH, it's a metal sound source, but the drum patterns that follow the tempo and I've used this software for a long time for its ease of use, including guitar phrases. For "Crazy Motorcycle", I started out by making a prototype using GOTH and then adding live drums and guitars to it. I used a dubbing technique to complete the project. I think the timestretching function engine could be a little more accurate, and that would reduce the tonal degradation. But I'm secretly looking forward to the release of GOTH 2 with great anticipation.
IN SESSION AUDIO "SHIMMER SHAKE STRIKE + EXPANSION"
I use this for chopping small things like shakers and tambourines. It's convenient because it follows the tempo.
This is a tool & software that can separate a two-mix into separate stems and export them. I used it to extract the material for the story when I incorporated the vocal material of "Honeybee Inn".
Mitsuto Suzuki (SQUARE ENIX)
A composer with SQUARE ENIX, Mitsuto Suzuki has worked on a number of titles including FINAL FANTASY VII REMAKE, LIGHTNING RETURNS FINAL FANTASY XIII, MOBIUS FINAL FANTASY, and School Girl Strikers. Besides his work in video games, he has composed music for the television anime, School Girl Strikers Animation Channel; written scores for theater productions; and penned reviews in music journals.
SQUARE ENIX MUSIC Official Blog, "Weekly Suzuki" (Japanese only) »
© 1997, 2020 SQUARE ENIX CO., LTD. All Rights Reserved.
CHARACTER DESIGN: TETSUYA NOMURA/ROBERTO FERRARI
LOGO ILLUSTRATION: © 1997 YOSHITAKA AMANO