「ORIGIN07 FUNKY HOUSE PRODUCER」のレビュー
媒体名:

Music Tech誌(UK)

更新日:

05.05.01
Music Tech誌(UK)レビュー内容(英語)
Verdict: 7 out of 10
If you produce house or dance music and need an up-to-date set of samples to refresh your collection, Funky House Producer is just the job.
Funky house is quite distinct from other styles of house music in that it's not quite as relentless and relies less upon a straight four-to-the-bar bass drum beat and more upon groove. Other key ingredients are funky bass lines, disco-style rhythm guitars, Latin percussion and dreamy, shimmering effects, all of which are abundant on this new sample CD, Funky House Producer, from Loopmasters.
Produced by Andy Lee for the Origin Series, Funky House Producer contains an up-to-the-minute collection of loops that perfectly capture the sounds and ambiences currently filling the floors of clubs around the world. It sounds fresh and it sounds new - and that's important if you're into producing club music, because samples CDs of this type tend to date quickly.
All the content on this disc is copyright-free (.WAV, Rex2 and NNXt patches), split into four tempo groups (115, 120, 125 and 130BPM) and available in various keys. Most of the loops are two bars long and sit well together, which is essential for this style of music. 350 drum loops span the four tempo groups, but if you'd rather make your own, a huge variety of hits can be found in the Drum Toolkit folder, a feature found on other CDs in this series.
What you're getting is without doubt a quality product ? Very well played, expertly crafted loops at a very reasonable price.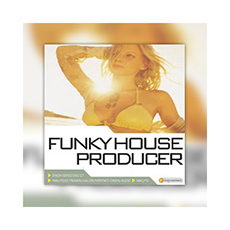 DEEP~UPPER HOUSE対応、本場のノリを完全凝縮!!
税込価格 ¥4,620
231pt
ジャンル:

フォーマット:

WAV, REX2, HALION, EXS24, NN-XT, KONTAKT (Preview)

リリース時期:

2009年12月

メーカー:

LOOPMASTERS