「ORIGIN06 DOWNBEAT & LEFTFIELD」のレビュー
媒体名:

Sound On Sound誌(UK)

更新日:

05.04.01
Sound On Sound誌(UK)レビュー内容(英語)
4 Stars
The Loopmasters Origin Series, of which this library forms a part, aims to offer 100-percent copyright-free loops, multisamples, and single sounds in a value-for-money format. All the CDs in the series include WAV loops, REX 2 files for all the loops, and some Propellerhead Reason instrument patches. As suggested by the title of this CD, the collection of samples here were all recorded at lower tempos (100bpm and slower), while the musical content is both dark and somewhat quirky - hence the 'leftfield' tag. The library totals some 700MB of data, with 275 REX 2 loops, 700 WAV files, and samples for 21 different drum kits included.
A good chunk of the collection is made up by a mixture of over 100 live and programmed drum loops recorded at 100bpm, 90bpm, and 80bpm. There is some good stuff amongst this lot that would suit anything from hip-hop through to chill-out. The sounds are nicely produced and not over-processed, with some of the percussive elements lending a darker feel to the grooves created. The tone is not lo-fi gritty, but it does conjure up a 'serious' hip-hop mood, so think Nelly or Snoop Dogg rather than Goldie Lookin Chain or The Beastie Boys - although you could get to the latter with suitable extra processing. A separate folder of percussion loops, drum fills, and other drum 'extras' is also included.
Aside from the drum loops, the rest of the collection provides a diverse set of instrument loops and sounds. These include a folder of bass loops (plus a small collection of Reason NNXT bass patches) whose moods match the drum loops very well, so there is plenty of scope for mixing and matching between these. A further folder of 'instrument' loops is subdivided into guitar, keyboard, pad/atmosphere, strings, vocoder, and woodwind (dominated by solo sax lines) groups. This is a pretty mixed bag. For example, the keyboard group includes a good number of chilled Rhodes loops while, in contrast, the pad/atmosphere set provides a mixture of both chill-out and much darker moods. Two further folders complete the collection. Firstly, a sound effects folder contains various bleeps, bloops and other noises - all very disturbing. Secondly, the Vibes & Atmos folder contains a mixture of bed-style pads and sound effects, plus a collection of turntable scratches.
In use, there is plenty to get your teeth into in this collection, and the loops from the various groups can easily be mixed together to produce a complete musical arrangement. The single hits, REX 2 loops, and instrument patches (for Reason users) add extra flexibility. For styles moving from Zero-7 chill-out through to darker hip-hop moods, Downbeat & Leftfield has plenty to offer.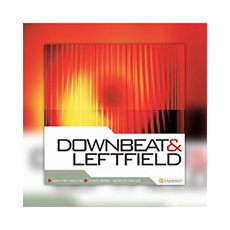 ダウンビート~エレクトロニカ・サウンドのループ&単発音!
税込価格 ¥4,169
208pt
ジャンル:

フォーマット:

WAV, REX2, HALION, EXS24, NN-XT, KONTAKT (Preview)

リリース時期:

2009年12月

メーカー:

LOOPMASTERS