「ORIGIN05 PERCUSSIONISM」のレビュー
媒体名:

Sound On Sound誌(UK)

更新日:

04.12.01
Sound On Sound誌(UK)レビュー内容(英語)
5 STARS
If you like the sound of things being beaten with hands or sticks, then Percussionism from Loopmasters might be right up your street. The list of percussion instruments used is pretty extensive: as well as the more usual tambourine, shakers, congas, and bongos, more exotic instruments such as berimbau (a bow with a single steel string), djembe, bougaraboo (like the djembe, only taller) and bendir are included, amongst others. The single CD is packed with some 550 REX 2 loops, over 650 WAV loops, and a further 1300 single-hit WAV files.
I experimented with the WAV loops and single hits in Sony Acid Pro v4. These are split into tempo groups ranging between 60bpm and 160bpm, but, provided that the usual limits are observed, they can easily be time-stretched to mix and match between the original tempos. As well as individual instrument loops, the collection also includes some full-mix and processed loops. All the instruments seem to have been both well played and well recorded. The various drums do not appear to have been over-processed, so there is plenty of attack to things like the conga and doumbek loops, for example. In terms of balance, there seem to be marginally more 'shaken' than 'beaten' loops - I counted over 90 basket or egg-shaker loops, some 60 tambourine loops, nearly 50 shekeree loops, 50 cabasa loops, and over 100 jinglestick or rainstick loops.
Given the diverse set of instruments, it is not surprising that these samples could be used to add the flavour of a whole range of musical styles. As well as the more obvious Latin, African, or Eastern influences, however, a good number of the loops could easily work in a jazz, funk, or pop context. I often find that starting a songwriting session with a few percussion loops provides an inspiring alternative to some straight drum loops and, within a few minutes of mixing and matching within this collection, I was itching to pick up a guitar or bass to play along. There is also plenty here that would work when writing to picture if the music required just an element or two to suggest an Indian, African, Latin or Egyptian influence.
For those who like to build their own sampler patches, the huge number of single hits provide plenty of scope for experimentation - more than 230 bougaraboo hits ought to be enough for all but the most dedicated of percussion samplists! Most of the instruments are sampled less intensively than this, but there is still plenty of variety for most. In the main these single hits are also well recorded, although a little more level on some of the samples would not have gone amiss. This one minor criticism aside, Percussionism is a job very well done and, for a single CD, packs in plenty of content. Good value, good quality, and inspiring - now that can't be bad can it?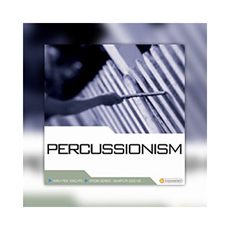 世界の様々な打楽器グルーヴ&単発"約2500音"の大コレクション!
税込価格 ¥4,620
231pt
ジャンル:

フォーマット:

WAV, REX2, HALION, EXS24, NN-XT, KONTAKT (Preview)

リリース時期:

2009年12月

メーカー:

LOOPMASTERS