「SOUNDS OF THE 70s」のレビュー
媒体名:

Sound On Sound誌(UK)

更新日:

05.04.01
Sound On Sound誌(UK)レビュー内容(英語)
This library apparently aims to capture 'the true essence of the 1970s. Quite what that really was is arguable
- but the 'Funk & Disco Essentials' subtitle should clue you in to the fact that this collection aspires more
to the dance-floor grooves of Chic and James Brown than the chart-topping sing-alongs of The Bay City
Rollers or Mud. The software front end for this collection of samples is a limited version of Native
Instruments' Intakt. This playback software was discussed back in SOS February 2005, so I won't recap any of
that here, except to say that this instrument is compatible with Windows XP and Mac OS X. You'll need a
quick CPU and plenty of RAM to get the best results, and a DVD-ROM drive and 1.4GB of free hard disk
space are required.
The emphasis in the sound library is firmly on loops and phrases. The samples are arranged into 43 different
construction kits, together with a further Toolkit library consisting of various extra bits and pieces. Various
Hammond B3 and Wurlitzer sounds, guitars, basses, synths, trumpets, and various drums and percussion
instruments are all included. I have to say that the quality of both the construction kits and the Toolkit
samples is very high throughout. Regardless of how you happen to feel about the ongoing trend for kitsch
nostalgia, there's no denying that this collection is extremely convincing, both musically and in terms of
production.
Funk, soul and disco sounds predominate, although there are a couple of rockier kits thrown in as well. In
each case you're given the complete kit, with all the component parts conveniently mapped out across the
keyboard. If you ever need to assemble plausible-sounding retro backing tracks in a hurry, you'll find Sounds
Of the '70s very useful indeed. Equally, if you prefer to be a bit more experimental, you won't be disappointed.
Native Instruments have equipped Intakt with an impressive array of sound-mangling tools, and the raw
material provided by this sample library can easily be taken and twisted into something new and unusual.
Sounds Of The '70s does a good job of reproducing the characteristic sounds of its chosen era, and will
appeal to anybody who needs quick, easy access to a convincingly retro sound palette. And, of course,
Intakt's ability to deconstruct and deform these same sounds may endear it to producers of hip-hop, drum
and bass, or related dance styles.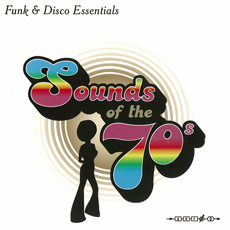 "黄金時代"を築いた70年代ファンク&ディスコ・サウンド!
税込価格 ¥10,593
529pt
ジャンル:

フォーマット:

KONTAKT 1.53

リリース時期:

2010年1月

メーカー:

ZERO-G