「BEATS WORKING」のレビュー
媒体名:

EQ誌(USA)

更新日:

03.07.01
EQ誌(USA)レビュー内容(英語)
With so many drum libraries on the market, developers are searching more aggressively than ever for ways to innovate. Zero-G has done just that with a massive bank of acoustic drum loops presented in a special 10-channel format (ready to mix to 5.1 or to stereo). Recorded at Abbey Road studio and engineered by Haydn Bendall, the cleverly named collection features the expert drumming of Ralph Salmins, whose credits include Tom Jones, Madonna, and Bjork, among others.
This is an exhaustive and smokin' collection of loops: 11 CDs of beats and hits in Pro Tools session format (stereo mixes in audio and Acidized WAV are also provided). In the Pro Tools files, each loop comes up as ten discrete channels: center, L/R close-miked, rear surround L/R, near ambient L/R, far ambient L/R, and sub. The styles range from brushed ballads to jazz, pop, rock, and funk. Odd time-signature patterns are included as well.
Prepare yourselves for some thick, meaty, solid beats with attitude. "Salmins displays a command of many different feels on a drool-worthy collection of vintage drums," says Ken Hughes, who reviewed the library for EQ's sister mag Keyboard. "Bendall captures their character expertly. The tones and grooves really are luscious. I had a blast taking the rear channels or the far ambient channels and applying freaky processing while leaving the center and front L and R channels alone. Having all this material opens up many creative possibilities."
The only real negative I can say about an otherwise brilliant collection - in the loops I auditioned, I spotted an occasional flub. "Chrsgrv1" [105 bpm], for example, has a noticeable kick-drum flam on beat 3. Zoom in, and you'll see it in the waveform. This can be easily fixed, but it's somewhat surprising that the producers let this slide, considering the rest of the loops I heard were so stellar.
All things considered, "this is one of the most impressive and eminently useable drum loop collections I've heard from a tone, taste, and recording-quality point of view," Ken summarizes. And I second that. Beats Working is a monster library from top to bottom, front to back.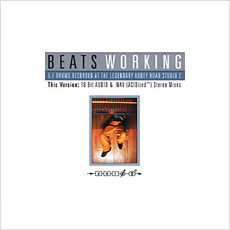 ABBEY ROADスタジオ録音の価値あるドラム音源!!!
税込価格 ¥10,384
519pt
ジャンル:

フォーマット:

WAV, ACID

リリース時期:

2010年1月

メーカー:

ZERO-G