「BEATS WORKING」のレビュー
媒体名:

Keyboard誌(USA)

更新日:

03.02.01
Keyboard誌(USA)レビュー内容(英語)
Pros: Huge volume of quality material, 5.1 sessions further extend utility of loops. User has control of ambience vs. close-miked sound.
Cons: Tempos not grouped. A few minor flubs.
Bottom Line: Fat, flexible, fantastic.
You've got to do something pretty big to get noticed in the overcrowded world of drum loops collections. Habitual risk-takers Zero-G have stepped up to the plate with an 11-disc set of drum loops in Pro Tools session format, and set it up for surround sound, no less. Okay, they've got our attention.
Beats Working presents a collection of eminently usable beats. Greg Rule, who leads a second life as a drummer, was impressed: "[These are] thick, meaty, rock-solid beats with attitude," he said. "Very impressive drumming and recording quality." Drummer Ralph Salmins, whose credits include Fred Wesley, Tom Jones, Madonna, and Bjork, displays a command of many different feels on a droolworthy collection of vintage drums, and producer Haydn Bendall captures their character expertly. The tones and grooves really are luscious.
Each loop comes up as ten discrete channels: Center, L/R close-miked, rear surround L/R, near ambient L/R, far ambient L/R, and sub. Don't let the 5.1 capability scare you away if you, like many, still work in stereo. I had a blast taking the rear channels or the far ambient channels and applying freaky processing while leaving the center and close L and R channels alone. Having all this material opens up many creative possibilities.
Greg and I both leveled only minor criticisims. He said "About the worst thing I can say is that, in the loops I auditioned, 'chrsgrv1' [105bpm] has a noticeable kick-drum flam on beat 3. Zoom in, and you'll see it on the waveform. This can be easily fixed, but it's somewhat surprising that the producers let this slide, considering the rest of the loops I heard were so stellar." I was very slightly put off by the predominance of random BPMs (84, 177,131, etc.) because they make calculating tempo-shift percentages a little trickier. Salmins did play to a click, but tempos were chosen "based on what felt right," according to Zero-G.
This is one of the most impressive drum loop collections I've heard from a tone, taste, and recording quality point of view. Throw in the innovation of 5.1 surround, and its utility even in plain ol' stereo applications, and it's a Key Buy winner.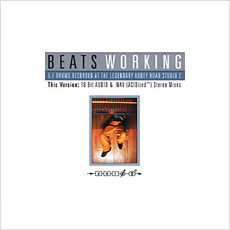 ABBEY ROADスタジオ録音の価値あるドラム音源!!!
税込価格 ¥9,460
ジャンル:

フォーマット:

WAV, ACID

リリース時期:

2010年1月

メーカー:

ZERO-G