「THE BEST OF BREAKBEAT」のレビュー
Sound On Sound誌(UK)レビュー内容(英語)
4 Stars
Who'd of thought that an innocent two-bar drum fill on a crackly old 45 would become such a valued source of inspiration for so many producers? Well, to save wading through the stacks of unwanted vinyl at the local charity shop, Big Fish Audio have produced Breakbeat 3, a two-CD set of live drum loops. The first CD is a standard audio CD, while the second is a CD-ROM containing WAV versions of all the loops.
The beats are split into two sections: the first 68 tracks on the audio CD contain longer loops of anything up to 16 bars, while the remaining 19 tracks concentrate on shorter two-bar loops. The longer loops range in tempo from a head-nodding 70bpm to a more toe-tapping 126bpm, with the main focus around the hip-hop-friendly 80-100 range. Each loop also has its component hits included, which is a nice touch, making life easier for producers who like to program their own variations. The shorter two-bar loops follow a similar pattern, but don't include the single-drum sounds.
So what about the beats themselves? On the whole they're very good and the standard of playing is high, with the emphasis on 'groove' and 'feel'. While it's hard to produce a collection of 200 beats without a few patterns sounding a little similar, Breakbeat 3 keeps this to a minimum, which is a real credit to the three drummers involved. Most of the loops are geared towards hip-hop/urban productions but there's plenty of scope for producers of all genres to find something useful here.
Described in the booklet as having "subtle electronic sounds beefing them up", there's some definite tweaking going on with the loops, but thankfully it never gets too overpowering. EQ and filtering have been used to make the kicks boom and the snares snap, or to add a machine-like quality, giving a surprisingly wide variety of drum sounds, which can only be a good thing. Some of the breaks have a sampled 'cut up' feel about them, while others are nice and grimy for that 'straight from vinyl' sound.
On the down side, a few of the loops sound a little too thin or muffled for the hip-hop/urban market they're aimed at and I'd like to have had access to the individual hits in the two-bar loop section. But these are really only minor niggles for what's a useful collection of drum loops with an authentic breakbeat feel.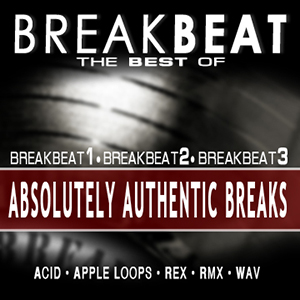 ブレイクビーツ三部作を一つにまとめたお得パック
税込価格 ¥4,631
231pt
ジャンル:

フォーマット:

WAV, ACID, REX2, Stylus RMX, AppleLoops

リリース時期:

2009年12月

メーカー:

BIG FISH AUDIO