「THE BEST OF BREAKBEAT」のレビュー
Interface誌(オランダ)レビュー内容(英語)
Contents: 8
Originality: 9
Sound quality: 8
Price/performance: 8.5
Breakbeats still seem to be necessary, even if you have tons of them. Big Fish Audio, probably the worlds' largest supplier of sample CD's at the moment, has come up with this new title full off authentic loops.
This third generation is a totally different in concept than the others. This time they've chosen to take many more raw sounds to create new breathing loops. Besides these raw sounds there are also a lot of subtle loops that you can muffle up into any layer of your rhythm track. The heavy ones you can practically only use them for your main beat, but again mixed along with subtle ones you'll get a very solid rocking rhythm track. The heavy hit and low tempo make them perfect for, not only, styles like hip hop, but they're also very usable for big beat and dozens of other styles of music.
The sound quality of all sounds is more than good. Sometimes a lot of compression has been used, EQ or some effects but that has its' charm and sounds very right through the complete CD. The second CD is the one with the WAV files of the loops and the individual sounds, which is organized maybe a bit strange at first sight, but that doesn't stop you from using this one. The only thing that's missing at this point of view are midi files to experiment with. Of course, as on all BFA titles, all loops are made ready for use in applications as ACID.
Concluded shortly: "A bit strange sometimes, but jummy it is."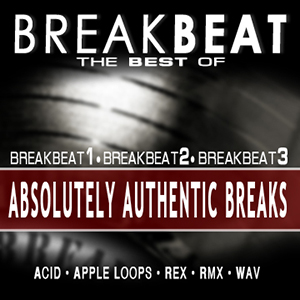 ブレイクビーツ三部作を一つにまとめたお得パック
税込価格 ¥4,939
246pt
ジャンル:

フォーマット:

WAV, ACID, REX2, Stylus RMX, AppleLoops

リリース時期:

2009年12月

メーカー:

BIG FISH AUDIO