「THE BEST OF BREAKBEAT」のレビュー
Computer Music誌(UK)レビュー内容(英語)
Ratings: 8 out of 10
Breakbeat, ay? What's all that about then? Well, here's one possible answer, as Big Fish tries to set the record straight again with number 3 in their Breakbeat series, featuring 222 samples in both Acid-ized .wav and CD audio formats. The collection offers 68 drum loops with variations and all the single hits that go to make them up, and they range from vinyl-esque filth to hopping, jumpy numbers and frantic railroaders between 70 and 120bpm.
You'll also find 83 miscellaneous two-bar loops to play about with, and all are named by bpm. Those Single hits are handy; use the variations and chop in your own breaks, beats and fills.
Those who love crisp, clean samples won't be pleased with the rather high level of grit that permeates these two discs; the rest of us will love dropping them into a mix - a quality collection of breaks and, er... Beats that's well worth the asking price.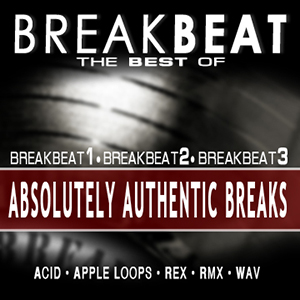 ブレイクビーツ三部作を一つにまとめたお得パック
税込価格 ¥4,323
216pt
ジャンル:

フォーマット:

WAV, ACID, REX2, Stylus RMX, AppleLoops

リリース時期:

2009年12月

メーカー:

BIG FISH AUDIO