「UP-BEAT DANCE GROOVES」のレビュー
媒体名:

Future Music誌(UK)

更新日:

02.06.01
Future Music誌(UK)レビュー内容(英語)
Rating: 8 out of 10
Talk about doing what it says on the tin because this really is a collection of up-beat, dancey samples. Andy they really are kinda groovy. Not so much of the four-four bass, snare patterns that you'd expect from 135 bpm upwards but some more interesting rhythms.
The samples are split into three tempo categories: 135, 140 and 150 bpm plus folders for synth loops, effects and atmospheres.
The beats are more breaky than solid and booming and are ideal padding material for those that like slow rhythmic builds. Like Percussive Loops, (Prosamples volume 4 reviewed in the same issue), some might not be strong enough to back an entire track but combining them could get stunning results.
The effects section is full of sci-fi sirens and atmospheres useful in those mammoth breakdowns. The synth loops section is one of the better ones, once again laid out by tempo and full of useful tranceful arpeggiations. There are plenty of 303 and filtered effects and a lot of rhythmic basslines too. Great stuff.
Finally we get the Atmospheres section which has plenty of, well, atmospheric stuff again: pads and sweeps are in plentiful supply here.
Overall, Upbeat Dance Grooves is a great CD with a lot of very useful elements. If you have had your fill of four to the floor sample CDs, this makes an ideal complement.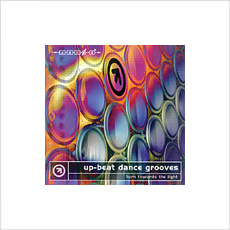 135~150BPMの創作リズムループ&効果音コレクション
税込価格 ¥4,004
ジャンル:

フォーマット:

WAV, ACID

リリース時期:

2010年1月

メーカー:

ZERO-G