「iFX VOL.2 MATINEE」のレビュー
媒体名:

Keyboard誌(USA)

更新日:

02.02.01
Keyboard誌(USA)レビュー内容(英語)
Pros: Clean, fresh, and tight. Useful for music as well as multimedia.
Cons: No tempos or keys listed for the small set of produced loops.
Bottom Line: Hundreds of weird and colorful substitutes for traditional percussion.
Though it's billed as "sound FX for Interactive & Web Developers," this CD-ROM would make a fun addition to the library of anyone who works in a heavily electronic style. I had a great time and got some inspiring results by programming clicky yet funky little beats in Reason using a few iFX Matinee "Button Push," "Mechanical," and "Rollover" samples. Other folders on the disc include "Ambient SFX," "Events," "Sweeps," and "Whooshes." By my count there are 1,431 sounds in all, the largest category being "Rollovers" with a fairly astonishing 364 samples. Many of the files are quite short, but the "Sweeps" and "Whooshes" tend to be several seconds long. The jewel box contains identical CDs for Mac (AIFF files) and PC (WAV files), and the content fills almost 600MB per disc.
Overall, the mood is clean and friendly, not dark, though a few of the "Ambient SFX" could set off alarm bells or provoke miniature nightmares. Most of the 34 "Music Loops" are fully produced techno/industrial grooves - four, eight, or even 16 bars long. "I like the 'Rollovers' and 'Button Pushes' a lot," Ken Hughes commented, "but the loops were what really got me excited. This is inspired stuff."
The sound of the loops is heavy on the midrange rather than the bass, so they should work well as backing textures for multimedia projects intended for tiny desktop speakers.
The biggest chunk of the disc, though, is devoted to blips, hisses, clunks, buzzes, fweeps, and so on. You'll probably be amazed at how much variety sound designers Rob Bridget and Rick Elliott were able to coax from their machinery. "I did a little programming myself with these sounds, "Ken noted, "and I agree with Jim: They're quite useful for things other than multimedia and Web productions."
If you can't get enough of iFX Matinee, you could stock up with iFX Midget Gems. Cartoon makers, game designers, and advertising soundtrack producers will find a plethora of buttons and switches, house and garden sounds, workplace noises, vocal bits, dog barks, and more. Duplicate WAV and AIFF files are included on the single $99.95 Midget Gems disc, so essentially this one costs twice as much per megabyte - but again, there are hundreds of sounds to choose from. For now, though, I have plenty to work with just the Matinee set.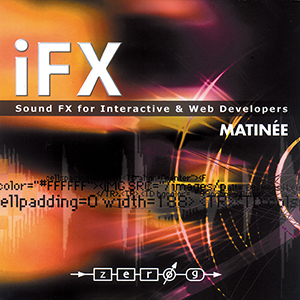 イメージが広がる創作効果音を1,400種類以上収録!!!
税込価格 ¥4,103
205pt
ジャンル:

フォーマット:

WAV, MUTANT

リリース時期:

2010年6月

メーカー:

ZERO-G