Sound On Sound誌(UK)レビュー内容(英語)
Rated: Value for Money : 3.5 Stars
Sounds : 4.5 Stars
Fidelity : 4 Stars
Already extensively reviewed (in January's 'Sample Shop' column) as a sample CD, this is a class act. An extra 400 samples have been added, to make a grand total of over 1700. To recap, the CD comprises loads of authentic-sounding JB and '70s funk guitar licks played by Vlad Naslas. It's mostly made up of easy-to-use rhythm work, but there is plenty of adventurous stuff in there too. Unable to look at every volume on the CD-ROM (it would take just under forever to do so). I checked out the first one on each partition. Note: auditioning took place on an Akai CD-3000, using the Akai format of the CD-ROM.
Partition A, volume 001: two programs held 10 matched tempo 'rare groove' funk guitar loops (at four bars, pretty long), with variations and fills. Loop start points had not been pre-trimmed to the bar start; rather they were au naturel. Some valve amplifier hum was in evidence.
On partition B, volume 001, as with the previous volume, both programs started on C2. I think that it would have been cleverer to lay them across the keyboard, so that one program number/MIDI channel could offer simultaneous access to all samples. There were only six loop samples this time, but they were all good. Partition C featured one program only, but 20 samples this time, but they were all good. Partition C featured one program only, but 20 samples this time. A Telecaster played '70's wah-wah licks and fills.
Partition D, volume 001, hosted some fabulous single-pole pickup work, DI'd via a squeaky-clean FET preamp. Samples were presented in stereo through a fast slapback/chorus FX unit, which sounded suspiciously like my old analogue ADA STD1; wide and bright, with warmth and body, and without too much distracting top end. The 23 samples will enable you to lay down a convincing early '80's funk track. Great.
Partition F's program 1 was a queer fish; six almost identical samples of a rock/funk lick played through a triggered wah-wah device. Program 2 had an absolutely huge loop played through a splendid OTT multi-effect with pan, chorus and multiple delays, which ensured that there was not much room left for any other instrumentation.
Volume 001 on partition G had three programs and 15 samples. I struggled to place that familiar constricted sound; was that a voice box doing the filtering and modulating? Whatever it was, it is also to be found on 'Haitian Divorce' by Steely Dan.
On partition I, the format changed slightly. Until this point there had been around 15 volumes per partition. Partition I had just five, so I guessed it was the end of the line. One program has nine samples of fresh DI'ed distorted dives and feedback.
The Program numbering was lost when volumes were loaded, a quirk of the CD-ROM/CD-3000 v1.0 software. I'm told the problem does not occur with other Akai samplers, that Akai have been informed, and that the software anomaly is being corrected.
Conclusion: I'd forgotten how good the Funk Guitar sample CD was. The CD-ROM gives you more and is well presented. The playing is very, very good. Samples are chosen to meld with most funk and even some rock styles. Sounds are authentic in the main, and there are very few fillers. Having said that, at a quarter of the price, the sample CD version probably gives more than a quarter of the value of the CD-ROM, since longish loops may often be auditioned more efficiently from an audio CD, and the sampling involved is not very onerous. CD-ROMs score more heavily where complex layers and multisamples are the order of the day.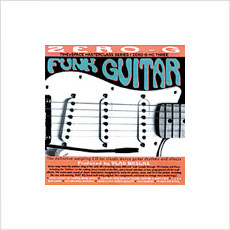 ダンス・プロダクション向けのクリスピーなギター・リズム集
税込価格 ¥7,843
392pt
ジャンル:

フォーマット:

WAV, ACID, REX2

リリース時期:

2010年1月

メーカー:

ZERO-G