Sound On Sound誌(UK)レビュー内容(英語)
4.5 Stars
Funk Guitar is the third release in the Time & Space Masterclass series. It's packaged to look like a packet of six (guitar strings, you fool), and progenitor Vlad Naslas has taken great care to ensure that each of the 1,244 samples on board is properly annotated. The sample lists include (where appropriate) key, tempo, effects used and suggested start point for the loop (where this is not on beat 1). All names are suitably descriptive and before I even get on to placing it in the Onkyo I can see that this collection has been meticulously prepared. Now for the pudding....
I wish he'd listed which guitar and amp was currently in use. Still, the rare grooves which open are quite obviously several light years ahead of previous competition. I think this is going to be a definitive collection.
Track 12: So far, loops have all been funky, slightly understated and virtually noiseless. Perhaps due to the PAST equaliser credited on the sleeve, which utilises old Neve components. Riffs are familiar-ish and my favourites so far are those which don't place heavy demands on the music onto which they could be laid. (Not too many different notes: 1, 2 or 3 is ideal). Fortunately, most samples fall into this category.
In track 10 there is some wah-wah work where the foot co-ordination could be better: I would in any case prefer to add in wah-wah myself over a straight sample. The dreaded W suffix appears after about 25% of all samples. Strike them off my shopping list, though doubtless others will disagree. Fortunately, this is more than made up for by the massive number of totally sensible samples that make up the bulk of the rest - and the fingerwork is well tidy.
By way of example, Track 12 is divided into two sections, each of which comprises a set of samples around the same key and beat. There are over a hundred of these sets, in a variety of styles. Some sets (Track 5, 'Rare Gem') contain no less than 24 samples, though the average is around 5-10. Optimally presented, I would say.
By track 24, a tad more distortion has crept in but the situation is still under control. Like that other Masterclass release, Ambient, here we have swathes of similar-sounding samples. Pickups, keys, guitars and preamp settings change from time to time, but so far (we're up to Track 31) the general trend has remained consistent: funky picking, chord work and licks in a decidedly pre-modern JB-esque style. Some favourite Motown licks are convincingly reproduced. Track 34 and a new effect: a sub-octave generator (remember them?). Like it.
I've just rembembered in the liner notes we are advised to audition these samples with reverb. As it happens, I have a Dynacord DRP15 waiting in the wings for its MIDI retrofit.... Program 126 ('Crazy Funk') is a slapback gated reverb. It sounds OK, but I think I pfefer to hear the guitars without any reverb at all. Sorry, Vlad. Dry is funky.
Track 42 is full of bluesy components, setting the tone for the coming season. The constricted squeeze of Track 44 is damn familiar... Now what was that effect called? Wasn't is made by Electro-harmonix? Tracks 48-50 have matching note, damped note and lick scales. There follows a selection of phased licks, which sound rather too doodly. Remember that hippie in the corner of the music shop who wouldn't shut up? Track 54 is the first to show signs of stereo - is that a JC120? More funky blues. The 23 licks are all called 'Dryza' (bone presumably). Strange, 'cos they're plastered with chorus. Track 55, back to mono.
Some nice FX are on track 60: autopan plus envelope trigger. A resonant stereo flanger is utilised on 61. Track 62 is a favourite: ZZ Top meets The B52s via a sub-octave generator. Track 67 is the heaviest yet, 68 wanders into Roachford territory.
By the time we get into the 70s (tracks, not years) Vlad is definitely getting less cautious. (First bit of feedback just went by). Considering that we are dealing with one man and his axes, he seems to understand how to get a wide range of sounds & styles together. He's not afraid of fringe territory, either. Whatever else this CD does, it makes an excellent CV.
Track 80: a super multiple stereo delay effect, followed by...what is that growly sound? Is it a Gibson maestro or Mutron pedal? The envelopes of track 84 indicate a guitar synth; this is followed by a wide range of weird and wonderful effects. Here lies the basis for a good few potential trance dance tracks - my S770 will be getting into these pronto. There is some techno sequenced stuff of very high viability.
Track 93 introduces the 'Talk Box'. And incredibly simple device involving tube, mouth and loudspeaker, which at times can sound like a raspy vocoder. (I remember seeing Peter Frampton munching on one on TOTP ). In fact, the last section (Track 99) features some genuine, if gratuitous, vocoding.
For whom the axe falls? Why a guitar CD at all? Dance samplists tend to want one-offs. If more intricate patterns are required, surely it's time to call in a session player? Ideally, yes. In practice, many samplists work without any multitrack capability, so while it might seem quite painstaking to piece together a realistic guitar part for your song, the cost in terms of studio time and session fee is nil. (If you do know a great guitarist willing to oblige, you might get them to play onto DAT or cassette while you loop your sequenced track, then sample the best bits later). Once thus assembled, you can edit the song at will. Try doing that on a multitrack with timecode.
For dance specialists who secretly want to use guitarists, but can't on ethical grounds, you will be able to fool most of the people most of the time with material from Funk Guitar. The conclusion is that if you want electric guitar samples, this is the best collection I've heard. The engineering and playing are first class. If you are looking for big fifths you will be disappointed. Don't worry - every samplist and his dog has them already. The material here is much cooler, fresher and funkier. A half star off for too much wah, otherwise no serious complaints. (PS. There's no acoustic guitar on this CD. Doesn't bother me, though - I got one for Christmas. Last year.)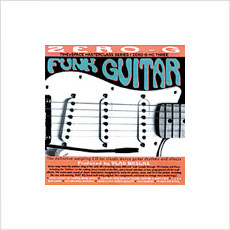 ダンス・プロダクション向けのクリスピーなギター・リズム集
税込価格 ¥8,987
449pt
ジャンル:

フォーマット:

WAV, ACID, REX2

リリース時期:

2010年1月

メーカー:

ZERO-G