「FX REVOLUTION VOL.1」のレビュー
Music Tech誌(UK)レビュー内容(英語)
Recommended indeed. STAR RATING// 8/10
"FX Revolution is the second samples pack from German producer Oliver Schmitt, whose Club Revolution Vol.1 gained an MTM Excellence award back in issue 69 (our verdict on the release read 'An essential toolkit for anyone writing electronic music'). This time around, however, he's turned his attention to synth effects, creating a massive library of dark atmospheres, ear piercing noises, sweeps and LFO madness.
This multiformat DVD contains 1.14gb of 24bit WAV audio along with corresponding sampler patches for EXS and Kontakt. The 300+ kick-free FX loop samples also come in Apple Loop and REX2 formats, offering additional and welcome flexibility. The thin, cut-up vocals, raspy noise rhythms and glitchy filtered hi-hat grooves have all been designed to compliment your main beat, much like the loops in Oliver's previous samples pack. The bulk of the library covers atmospheric sounds, impacts and one-shots, sweeps, backwards whooshes, a folder of extreme LFO based effects and various other heavily processed noises. The evocative atmospherics selection has a cavernous feel and the subtle detail makes it excellent for film soundtrack work or ambient intros.
The sweeps are complex and multi-layered, often combining moving white noise with rising synth lines. It's a more-than-minor miracle that Oliver has been able to create in excess of 120 synth sweeps that actually sound different from each other.
If you're after simple synth FX sounds, then you may want to look elsewhere, as the production in this collection is both intricate and intense. But while these sounds may somewhat over-shadow a track that's been treated with more basic or sparse production techniques, they will certainly represent an excellent addition to any electronic music producer looking for a more progressive sound, as well as being a great resource for multimedia or game designers."
//VERDICT// The deepest and most complete Synth FX library we've ever heard.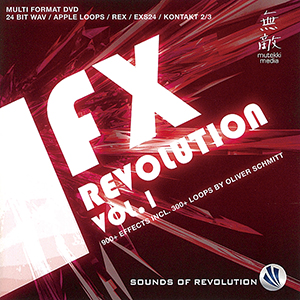 召喚される異次元サウンド。FXの魔術書登場!
税込価格 ¥5,621
281pt
ジャンル:

フォーマット:

WAV, REX2, EXS24, AppleLoops, KONTAKT (Preview)

リリース時期:

2012年1月

メーカー:

SOUNDS OF REVOLUTION