「MARSHALL JEFFERSON / HOUSE GENERATION」のレビュー
Sound On Sound誌(UK)レビュー内容(英語)
4STARS
Marshall Jefferson's name is one of the latest to be added, with understandable fanfare, to the roster of Loopmasters' Artist Series. As a pioneer of the Chicago House scene, he wrote the classic 'Move Your Body', produced Phuture's 'Acid Tracks' (launching the TB303-led acid house sub-genre), and has since carved an enviable reputation for deep house tunes. Like others in this series, this library provides 540MB of loops, one-shots and multisamples in numerous formats, totalling more than 1100 samples. (As mentioned in previous reviews, I'm not sure how Loopmasters arrived at the '1.2GB of content' quoted on the box.
In the drums folder there are 53 programmed beats, majoring heavily on the TR808 and TR909, as you'd expect, plus a further 73 live-recorded breaks. The machine drums give a decent set of pattern options that you can supplement with full one-shot kits, and the sound has an appealing vintage authenticity to it. There's a retro flavour to the acoustic drums as well, which are tightly performed and full of life. However, the heavy gating that contributes to the punchy kick and snare sound also cuts off a few drum tails unnaturally, and gives some of the hi-hat details an unattractively 'serrated' timbre. Perhaps not a problem in a busy track, but a pain if you want to drop and solo elements to develop a track's structure.
Some of the live breaks have percussion layered over them in the well-worn carnival style surely familiar to every house aficionado, but there is also a comprehensive folder of nearly 100 percussion-only loops and copious further one-shots. A dozen different percussion instruments have been recorded, and are easily layered to create your own bespoke patterns, all the more so if you can use the REX 2 files.
The bass loops (synth, guitar and upright) all have a pleasingly off-kilter and characterful sound, as indeed do many of the guitars, synths and keyboards. Inevitably, acid-style TB303 bass lines make a strong (and surprisingly varied) showing, but house piano is also something of a Jefferson trademark and there are plenty of these loops on show as well, should you forgo the pleasure of programming your own parts using the several nice sets of multisamples. Notwithstanding all those goodies, it is the hooky little synths folder that gets my vote as the highlight of the library.
Unusually, for an affordable house library, you get live strings and brass loops too. The string sound seems a bit middly and nasal on its own, but that's because it's designed to work against house drums, and when combined in this way it all makes sense. It has to be said that the timing between the string and drum loops is occasionally a bit wayward, but fortunately nothing that a little digital editing can't sort out if you feel inclined - and there's every reason to be, as the performances are stylish and driven. Timing issues also afflict some of the 19 brass loops, which have been captured with a nice full tone, complete with some subtle and flattering modulation effects.
Around a quarter of the sample count is packed out with male vocal samples, and although this does smack a bit of space-filling to me, there's still plenty of strong material. There are 388 one-shots from not only Marshall himself but also Byron Stingly and Paris Brightledge, and all are really nicely performed. This pair are both let down a bit by the audio quality, though, and Stingly in particular sounds like he's been recorded with an SM58 (and a fair amount of spill) in a broom cupboard. However, the handful of pre-processed vocal loops showcase how far you can take this raw material with the help of liberal editing and effects.
I imagine that Jefferson's dedicated fans will consider this product a must-have, simply because of the name. However, other musicians will also find a lot to recommend this sample set (despite the disappointing technical niggles) where the production's generally euphoric but slightly muzzy mood fits in with their own music.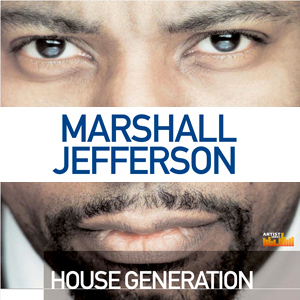 MARSHALL JEFFERSONが放つ超メジャー級ハウス・ライブラリ!!
税込価格 ¥5,632
281pt
ジャンル:

フォーマット:

WAV, ACID, REX2, HALION, EXS24, NN-XT, KONTAKT (Preview)

リリース時期:

2009年11月

メーカー:

LOOPMASTERS