「JOEY YOUNGMAN / JACKED OUT FUTURE HOUSE」のレビュー
媒体名:

International DJ誌(UK)
International DJ誌(UK)レビュー内容(英語)
Loopmasters reach out to the 4/4 lovers with a solid collection from new school house hero Joey Youngman
The sixth in Loopmasters' Artist Series of sample packs sees prolific house producer Joey Youngman providing us with a handy collection of his latest sonic creations. With his label Fetish Recordings and an extensive back catalogue of clubland hits, Joey's been creating sounds since he was 11 years old and is now credited with bringing back the jack to Midwest and west coast house. If you're out to create a new flavour of vintage US house and its many variations, then Joey's certainly your man.
He's obviously taken some care over the task, and with a whole range of irresistibly funky filtered basslines, drum loops and percussion, guitars, sound FX, keys and vocals, there's plenty of imagination and positive vibes going n here. As we've come to expect from Loopmasters, all the sounds are really top quality and well organised with separate folders for WAV files, Rex2 samples and aptchse for Reason NNXT, HALion, etc. So whatever sequencer or sampler you're using, it's easy to install what you need.
With only a few hundred different sounds that could be described as essential or indispensable, this is by no means an exhaustive library of house samples. But you do genuinely get the feeling that you're getting the ceram of Youngman's sound selection here. In his own words, Joey says "the format and organisation of the disc is based on how I make music," and that "all of the instrument and bass sounds and patches were created with hardware, including some nice vintage analogue pieces". So already it's possible to get an understanding of how a producer creates tracks, and that's really where Loopmasters' Artist Series comes into its won, rather than a mere collection of random samples, it's also an insight into the techniques of a successful producer.
Verdict

Sound Quality: 20/20

Build Quality: 20/20

Ease of Use: 18/20

Value for Money: 18/20

Feature Set: 15/20

IDJ Rating: 91%



Jacked Out Future House will enthral and inspire new school and old school house producers alike.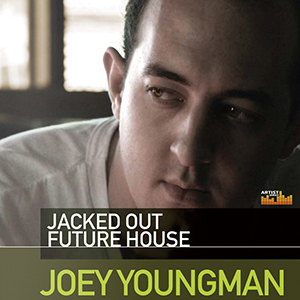 JOEY YOUNGMANが手掛けるキャッチーなHOUSEライブラリ登場!
税込価格 ¥6,061
303pt
ジャンル:

フォーマット:

WAV, ACID, REX2, HALION, EXS24, NN-XT, KONTAKT (Preview)

リリース時期:

2009年11月

メーカー:

LOOPMASTERS