「HARLEY&MUSCLE / DEEP HOUSE PRODUCER」のレビュー
媒体名:

International DJ誌(UK)
International DJ誌(UK)レビュー内容(英語)
Loopmasters continue their artist series with the legendary house duo Harley & Muscle…
Just in case you don't know (and you really should, by now), Harley & Muscle are two Milan-based house music producers who've collaborated with some of the biggest names in the industry such as Robert Owens, Gerideau and Dawn Tallmann to name but a few. Remix-wise, they've also worked with the likes of Gloria Gaynor, Loleatta Holloway, Jocelyn Brown, Alexander O'Neal and Miguel Graca. Basically, they're a world-renowned duo famed for their trademark deep house sounds. So, if you're looking to cut a damn fine deep house record, there genuinely couldn't be a better place to start than this latest instalment from Loopmasters…
As with the previous Loopmaster artist series offerings, the quality of the samples are crisp and clean. Basically, you've got everything you need to get the deep house feeling into your productions. Pianos, basslines, drum loops (including claps, hi hats, kicks, snares and percussion) are all on offer here, plus a good selection of FX. The tempos range from 115 to 125BPM and the lush Rhodes and string sounds are exceptionally warm and easy to apply in you productions.
The specs for this DVD are also impressive; there are over 50 four bar drum loops, 42 basslines, nine lead loops, 48 piano samples, 25 string loops, eight FX samples and more than 200 single hit drum samples. And that's before we get to the 10 multi sampled piano and Rhodes ready loops ? all of which are totally compatible with just about all contemporary programming software packages you have at your disposal.
Essentially, the appeal for this sample set may be limited to the house heads among us ? budding trance, techno or drum & bass producers won't really be into the sonic selection here ? but if deep house is your thing you should definitely check out this latest offering from Loopmasters.
Verdict:

Sound quality: 18/20

Build quality: 17/20

Ease of use: 17/20

Value for money: 17/20

Feature set: 17/20

IDJ rating: 86%



Numerous similar sample sets available but the Loopmaster Artist series really are the best of the bunch.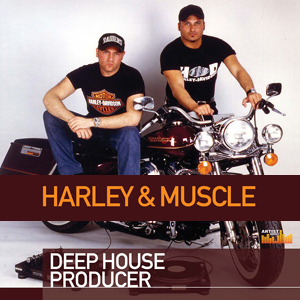 Deep Houseの雄、 "HARLEY&MUSCLE"製サウンド・ライブラリ!
税込価格 ¥5,830
291pt
ジャンル:

フォーマット:

WAV, ACID, REX2, HALION, EXS24, NN-XT, KONTAKT (Preview)

リリース時期:

2009年11月

メーカー:

LOOPMASTERS