「ROSS GARFIELD DRUMS 2」のレビュー
媒体名:

Keyboard誌(USA)

更新日:

96.09.01
Keyboard誌(USA)レビュー内容(英語)
Sound Quality: 5 out of 5
Selection: 5 out of 5
Bang for the Buck: 4 out of 5
If you're using a sampler for drums, but you want to fool people into thinking they're hearing the real thing, Ross Garfield would like to talk to you. This follow-up to The Drum Doctor's Does Drums is a feast of cleanly performed, beautifully recorded acoustic drum hits. "No question," Greg concurs. "The choice of instruments, the tunings, and the recording quality are awesome." The biggest slice of the disc is devoted to kicks and snares, but crash and ride cymbals are also included, along with toms, sleigh bells, tambourines, maracas, and a few more exotic items. We reviewed the audio CD; we're told that the CD-ROM includes all of the samples and more, arranged where possible with velocity cross-switching to place up to five dynamic levels on one key.
The methodology in the audio CD places 15 of more samples of the same drum back to back in a single track. You get, typically, three separate hits at each of five volume levels. Most of the samples are gain-normalized, however, so that the soft hits are just as hot on the CD as the hard ones. (The soft maraca strokes are an exception to this rule.) Some tracks include more than 50 samples- snare ruffs, flams, brush hits, cross-stick hits, and so on are all well represented. In some tracks you'll find both close-miking and overhead mic recordings of the same drum. The booklet meticulously lists all of the samples by dynamic level, mic position, etc.
The recordings are dry, naturally, as you'll want to add your own reverb. The crash and ride cymbals are allowed to decay for several seconds, and then are rolled off smoothly (or possibly hand-choked) to silence. Everything on the disc is good, but the Latin-type cowbells seemed especially flavorful to me, as did the brake drum (a surprisingly high-pitched cowbell-like metallphone). The brush-hit toms are not the sort of sample you run into everyday. A half-dozen performance loops are scattered around the back end of the disc- one on djembe, one on cha-cha, two on guiro, etc.
Drums 2 is not exactly oozing attitude; it's a dry, matter-of-fact collection. This is probably what's called for, though I did find myself wishing for a few fortissimo or firtississimo samples amongst the snares. Maybe next time the Drum Doctor will kick out the jams.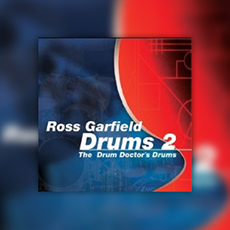 リアリズムを追求した究極の生ドラム・ライブラリー!!
税込価格 ¥7,282
364pt
ジャンル:

フォーマット:

KONTAKT 3

リリース時期:

2010年3月

メーカー:

BIG FISH AUDIO