「ORIGIN21 DISCO HOUSE SESSIONS」のレビュー
媒体名:

Sound On Sound誌(UK)

更新日:

07.01.01
Sound On Sound誌(UK)レビュー内容(英語)
Disco House Sessions is a further addition to the Loopmasters Origin series. As with other libraries in the series, the loops are provided in Acidised WAV (900 files) and Stylus RMX compatible REX2 (440 loops) formats. Also included are 18 instrument patches for the NNXT, Halion, Kontakt, EXS24 and SFZ software samplers. In total, the CD-ROM contains 630MB of sample data, and a separate audio CD is also included for auditioning purposes.
In common with the other Origin libraries, the WAV files are organised into folders based on instrument type, rather than as song construction kits. The 300+ drum loops are divided into sub-folders based on original recording tempo, which ranges from 110 to 128 bpm. Most of the loops are full-kit-based and the titles of the individual files specify whether the material is of the disco or house variety. The disco loops dominate and, while they could easily work within a contemporary dance track, there is a very 1970s flavour. The house loops also have a distinctly disco feel and the key difference is often the sounds used N many of the house loops feature much bigger kick-drum sounds, for example. Usefully, there is a smaller number of percussion loops and a separate folder of drum fills is also provided, so a complete drum track could easily be constructed. Nearly 300 single-hit drum samples are also included, so you can roll your own loops if required.
The rest of the collection is dominated by loops and one-shot files, covering bass, guitar, keys, brass, sax, vocal and some effected/filtered samples. These are a bit of a mixed bag. For example, there are some excellent guitar loops, very funky and classic disco in style, that would suit anything from a Starsky And Hutch soundtrack to a Jamiroquai-style number. Equally, many of the bass, keys (mostly piano and Rhodes) and brass loops are very useable, while the pre-processed loops in the Filter folder are instantly gratifying (even if it would be easy enough to apply your own processing to the unfiltered samples). Some of the Disco Hitz samples are also great, but others seem rather truncated and would be more useful if they had been allowed to fade more naturally. The Sax Riffs folder is also a bit of a disappointment: unlike the rest of the loop material, these loops did not appear to have been fully Acidised.
I'm not sure there is anything remarkably new in Disco House Sessions but the samples are well recorded and played. They are also good fun to use, and I'd have no problem placing them in commercial projects. If you need to add a disco vibe to your dance tracks (think of Madonna's Confessions On A Dance Floor), Loopmasters Disco House Sessions provides a very cost-effective starting point.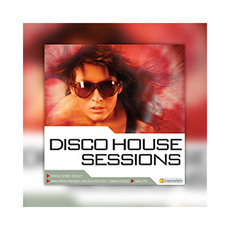 アッパーなディスコ・ハウス全開。今が旬なメジャー系ハウス集
税込価格 ¥4,158
207pt
ジャンル:

フォーマット:

WAV, ACID, REX2, HALION, EXS24, NN-XT, KONTAKT (Preview)

リリース時期:

2009年12月

メーカー:

LOOPMASTERS